Jimmy Spratt denies Maze 'nutters' claim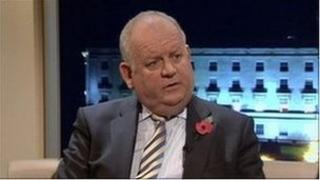 DUP MLA Jimmy Spratt has demanded an apology over a claim that he called those who object to the Maze peace building centre "nutters".
The claim was made by Ulster Unionist leader Mike Nesbit who insisted he heard the description during a heated meeting of a Stormont Committee.
Mr Spratt angrily denied using the term.
The two politicians were taking part in a question and answer session with the first and deputy first ministers.
There have been years of controversy over the scheme to redevelop the former prison site, which housed convicted paramilitaries from 1971 to 2000.
Shrine
Ten inmates died on hunger strike in the Maze in 1981, as part of a campaign by republicans to secure political prisoner status.
The peace building centre is backed by Sinn Fein and the DUP, but opposed by the other unionist parties.
Some unionists expressed fears it could become a shrine to terrorists.
First Minister Peter Robinson told MLAs at the committee he was convinced there would be "nothing in the centre to offend anyone".
He said it was the "right decision not to abandon the site and let the tumbleweed grow".
Planning permission for the new peace centre was granted in April.
The meeting also covered the Stormont programme for government, recent proposed changes to planning law and the development of the Maze site.