£25m Big Lottery Fund for family projects launched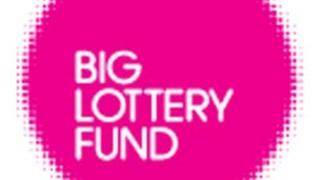 A new multi-million pound project to help some of Northern Ireland's most disadvantaged families has been launched.
The Big Lottery Fund is providing £25m to the Reaching Out: Supporting Families programme.
Supporting Families will award grants of between £500,000 and £700,000 to family based projects.
Joanne McDowell from the Big Lottery said the money would "improve the lives of children".
"It is understood and accepted that offering help sooner rather than later can make a big difference to outcomes for children, young people and families," she said.
"So we want this new programme to improve the lives of children and their families by strengthening the relationships with those that look after them.
'Pathway in life'
"We know a lot of good work is already happening in Northern Ireland and we would like to see organisations coming together in partnership to develop strong projects that will reach out to those families who need the most support."
The programme will support children under the age of 12 and their families facing a range of challenges.
The funding will be made available for projects that will help families to improve their children's lives by building strong and nurturing relationships.
Single mum Eimhear McCann from Belfast has said the support network offered to her by her son's nursery school prevented her from getting caught in the benefit trap.
Ms McCann received support from the Our Shared Vision project run by the Belfast Education and Library Board with a grant of just under £1m from the Big Lottery Fund.
"My marriage had broken up and I was left at home with three young children," she said.
"I could have easily stayed on the sofa but my son's nursery school, Naíscoil an tSléibhe Dhuibh, got me involved in courses and I found my way back to education and have now got a job in the same school which turned my life around."
Eimhear, said with her own job, a car and a house now and lots to look forward to it was taking part in courses and activities run for parents by the school which gave her back her confidence, helped her make new friends and find her pathway in life.
"I am unrecognisable from the person I was a few years ago and if it can happen to me, then with the right support it can happen to anyone."