Londonderry hotels have 'best ever month'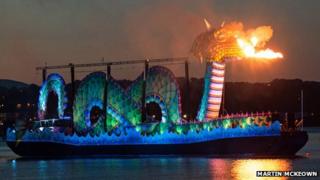 Londonderry's hotels have had their best ever month according to figures from the Derry Visitor and Convention Bureau.
The DVCB said that 16,000 hotel rooms were sold in the city in May and the average hotel occupancy across the city was 80.68%.
Derry is six months into its year as the first ever UK City of Culture.
The numbers do not include day visitors, people who stay with family or friends or those in B&Bs.
The DVCB's Odhran Dunne welcomed the figures and said it was "a great milestone for the city".
"That's one of the reasons we released the figures," he said.
"We know that 2013 is going to be exceptional. This is all a lot of new territory for the city, but there are opportunities to create a legacy beyond 2013.
"That is what is critical moving into 2014 and beyond"
'In transformation'
Shona McCarthy, chief executive of the Culture Company said the current momentum was "exactly what we hoped for".
"Apart from the huge social benefits and just seeing this city smile, to now know that the actual economic impacts are kicking in as well, visitors are coming to the city and that is proven beyond doubt now," she said.
"And judging by the response to the Return of Colm Cille and then Music City! Day last Friday, which was just extraordinary, I think that trend is set to continue.
"You should come here to bear witness to a city in transformation."
'Remarkable'
Tour guide Martin McCrossan said his business had seen interest from every corner of the world.
"We're on par with the hotels, we're seeing about a 30% increase on this time last year," he said.
"With my last group this afternoon, we went to St Augustine's and you wouldn't believe it there was a queue to get in.
"There's a remarkable number of visitors coming to the city for the first time ever. Keep her lit, we have to keep it going and I'm quite sure that we will."