Translink's pre-tax profits rise to £9.1m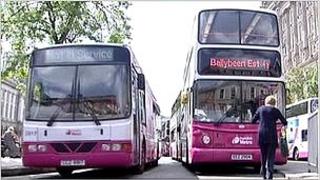 Translink profits increased last year, with the bus and rail operator also holding a £60m cash reserve, according to the company's latest accounts.
The company reported a £9.1m pre-tax profit, inflated by having received £4.3m for land vested from it for roads.
The comparable profit figure in 2011-12 was £2.9m.
Translink does not foresee any above inflation fare increases the financial year to April 2014.
The improved financial picture has prompted political criticism, following bus and train fare increases of up to 5% in May.
SDLP MLA John Dallat said: "It is particularly galling when I discover they have £60m in cash a few weeks after they shoved up fares to the hard-pressed travelling public."
However, Translink accounts also show current liabilities of £53m, money owed to suppliers and other trade creditors.
The company is facing big reductions in funding from the Department of Regional Development in the years ahead and requires a £7m bailout to maintain free travel to older people.
Twenty percent of its finances comes from the public purse.
It said it carried an additional 1.5m bus and train passengers over the past 12 months.