Irish recession 'bad news' for NI says Sammy Wilson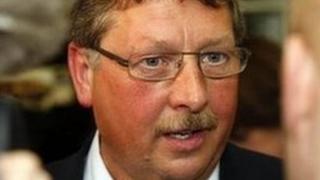 The Finance Minister Sammy Wilson has said it is bad news for Northern Ireland that the Republic of Ireland has slipped back into recession.
Speaking to the BBC he said: "We want all of our main markets to be successful.
"The Irish Republic is an important market for us as is the UK and Europe.
"While those markets are in recession of course there are going to be implications for businesses here in Northern Ireland."
It has emerged the Republic's economy slipped back into recession last year with indications their recovery from the financial crisis will be much slower than previously thought.
There was a fall in Gross Domestic Product in the first quarter, while revised figures showed a shrinkage at the end of 2012.
The finance minister said he hoped their economy would recover quickly
"It's bad news for us that the Republic is back in recession and we have to hope that their economic upturn will come and come very strongly because it will impact on us," he said.