Criminal Justice Inspectorate: Use G8 plan for riots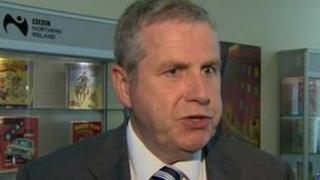 A Criminal Justice Inspectorate report has called for those involved in rioting in Northern Ireland to be brought before the courts more swiftly.
Special arrangements were put in place during the G8 economic summit to deal quickly with anyone involved in violence.
Inspectors said those plans should be used to deal with any prolonged incidents of public disorder.
Chief inspector Brendan McGuigan said a joined-up response had been in place.
"There was custody provision, there were doctors available to examine arrested persons," he said.
"There were courts available all over Northern Ireland to actually deal with an influx of arrested persons and indeed, there was cellular accommodation made available in the prisons.
"That's what a joined-up response is from the criminal justice system."