Ballymena boy mauled by dog at Carniny Primary School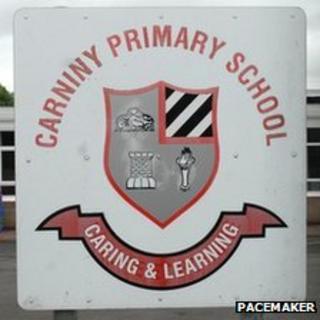 A five-year-old boy has been mauled by a dog at his school in County Antrim.
The child was taken to the Ulster hospital in Dundonald for specialist treatment.
The dog was being shown to pupils at Carniny primary school on the outskirts of Ballymena.
Raymond Ross, the school principal told the BBC: "Everyone at the school is very upset and distressed by what has happened. Our hearts go out to the boy and his family."
Mr Ross said the incident had happened in the school's playground, and that the pupils were being let in one by one to see the dog.
"The class were talking about pets and the teacher said she would bring in her dog and the children were looking forward to that.
"The teacher's husband brought the dog in today. It was in an enclosed playground and the children, from outside the playground, watched the dog play and jump around and they enjoyed that.
"Then very simply the children were then given the chance to come in and stroke the dog in the playground one by one.
"There were a number of adults there. The dog was in a very controlled position and a number of children had the opportunity to stroke the dog and they were very happy with that.
"Then suddenly the dog just turned on one little child and it's as if he just flicked his head to one side and caught the little child in the face."
Mr Ross said the school then rushed the child indoors and implemented the school's emergency procedure.
Ballymena Borough Council have released a statement saying they are aware of the incident and that their thoughts are with the family.
The council said: "A representative from environmental health attended the school following the incident and, having liaised with those involved, instigated appropriate actions to seize the dog.
"The dog has now been put down.
"Ballymena Borough Council is working alongside all appropriate organisations to carry out a full investigation."
The North Eastern Education and Library Board issued a statement that said its officers had been in contact with the relevant authorities and an investigation was now underway.
"Clearly our thoughts are with the pupil and the parents at this time," it said.
The Health and Safety Executive has said it is investigating the incident.