German business delegation's car burned out in Belfast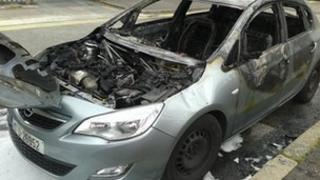 A car used by a German business delegation has been found burned out near Belfast city centre.
The car, which had a Republic of Ireland registration plate, was found in Apsley Street, off Ormeau Avenue, close to the delegation's hotel.
The vehicle was destroyed in the fire, which was reported to police shortly before 02:00 BST on Friday.
The group had been visiting the Schrader Electronics company based at the business technology park in Antrim.
A Belfast man, who works for the company in Germany, was accompanying the two Germans and an American on their visit.
'Shocked'
The man, who did not want to be identified, said the incident had caused dismay.
"I was shocked, but my colleagues were a lot more shocked than I was. It's something they have never seen before," he said.
"Being from here, it's something I had seen in the past, but trying to explain to them is very difficult.
"I'm quite embarrassed to say that this is my country. We are trying to show Belfast and Northern Ireland in a good light.
"The country has improved, it's gotten a lot better than it was 10 or 15 years ago, but we still see incidents like this which, unfortunately, let it down."