David Healy assault claim causing player 'difficulties'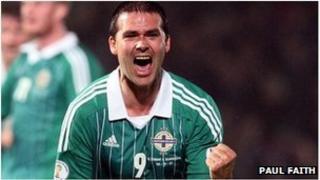 An assault allegation against Northern Ireland football star David Healy has caused "untold difficulties" to his career, a court has heard.
Mr Healy was in court on Friday to contest claims that he attacked a man in Belfast city centre last year.
The hearing was adjourned amid criticism of preparation efforts made by police and the prosecution.
Deputy District Judge Joe Rice said the viability of proceeding with the case should now be reviewed.
Mr Healy, who is Northern Ireland's record international goalscorer, is accused of assaulting James Geroid Crossan in May last year.
The 33-year-old former Manchester United and Glasgow Rangers striker, who was most recently released by Bury FC, denies the charge and is claiming self-defence, the court heard.
He arrived in court after travelling from England to fight the case against him.
Problems arose, however, after his barrister tried to have an alleged caution given to the complainant for assault on police introduced as bad character evidence.
Following initial confusion it was confirmed that details of the incident were on the police system under a different name.
Judge Rice was told a file containing full information was not immediately available.
"All I'm getting is obfuscation," he said.
"The facts and issues surrounding the injured party's previous criminal record have not been properly addressed.
"I think the response of the police and the Public Prosecution Service so far fall short of the high standards required by the court."
Although the judge decided the hearing could not proceed, defence counsel Richard McConkey stressed his client's need to have proceedings dealt with.
"The problem from Mr Healy's perspective is that as far as his career is concerned this case is causing him untold difficulties," the barrister said.
However, Judge Rice insisted there must be complete fairness and protection of rights.
"Mr Healy comes here with a completely clear record," he said.
"He has his rights as a defendant, and the benefit of the presumption of innocence."
Describing the situation as "far from ideal", he said he thought "the viability of this case proceeding should be reviewed by senior PPS people".
Mr Healy, who is originally from Killyleagh, County Down, was excused from attending a further review hearing next month.