Tablet disposal urged after eight sudden deaths in Northern Ireland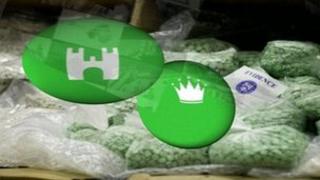 A police investigation in to the sudden deaths of eight people in Northern Ireland has prompted safety calls by drug addiction workers.
Those who died were all in their 20s and 30s, and police are investigating whether the deaths are linked to drugs.
The chief medical officer said those who took the green-coloured tablets may have believed they were taking ecstasy.
Staff who work with addicts have appealed to people to safely dispose of any tablets they are suspicious of.
The deaths have all occurred recently, with seven taking place in Belfast and one in the north west of Northern Ireland.
'Absolutely distraught'
The police have advised people to be particularly careful if they are offered green-coloured tablets with a crown or castle logo on them.
Officers are waiting for the results of forensic tests.
A number of community workers have told the BBC many of the deaths have taken place in unionist areas, including several in east Belfast.
Michael Copeland, an Ulster Unionist representative in east Belfast, said his daughter personally knew two of the young men who had died recently.
"She would have known them through school and through going to the places young people go - the clubs, bars and discos - and she was absolutely distraught because neither of them were people she would have associated with the drugs scene or with taking drugs.
He added: "It poses very serious questions for those involved in this illegal trade, who make quite a lot of money from what I imagine, and for those who are charged by society with making sure that they don't do it, i.e., the police, the justice agencies and a whole raft of other people."