Firework thrown at ambulance crew treating patient in Newry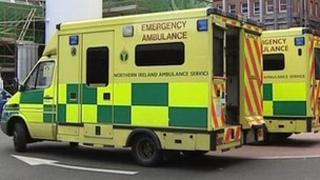 A firework has been thrown at an ambulance crew in a public bar, causing burns to their uniforms as they treated a patient in Newry, County Down.
The firework exploded at their feet as they helped a patient with a leg injury in the bar on Trevor Hill, shortly after 01:00 BST on Sunday.
The Northern Ireland Ambulance Service (NIAS) said the crew were shocked and suffered "slight hearing distortion" but continued to treat the patient.
A 20-year-old man has been arrested.
"He has been charged with two counts of common assault, two counts of criminal damage, possession of an offensive weapon and disorderly behaviour," a police spokesman said.
In a statement, the NIAS said it was "particularly concerned at this incident given that it occurred in such a confined space, thereby increasing the potential for more serious injury to the crew and others present".
The NIAS added that the attack had a knock-on impact on ambulance provision in the Newry area because the crew were "unavailable to respond to further calls immediately after the incident as they were required to make statements to the police".
"Their temporary unavailability had the potential to impact negatively on our response to life threatening emergency calls," the statement added.
A spokesman for the service said paramedics had "witnessed at first hand the devastating impact of fireworks injuries".
"That no-one was seriously injured is a result of nothing more than good fortune," he added.
The 20-year man is due to appear before Newry Magistrates' Court on Monday.