Forensic tests due on green tablet suspected deaths link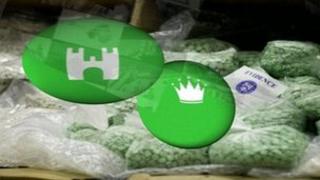 Forensic tests are expected to reveal whether the deaths of eight people in Northern Ireland are linked to a green tablet marked with a crown or castle.
Police are investigating the deaths of the people - all aged in their 20s and 30s - to establish whether they took a tablet that they thought was ecstasy.
Over the past number of weeks, seven people died in Belfast and one in the North West of Northern Ireland.
It is understood five of the men who died are from east Belfast.
PUP councillor Dr John Kyle said: "There is shock, grief, fear and concern about this. People are very worried that other young people will suffer the same fate."
Police have advised people to be particularly careful if they are offered green-coloured tablets with a crown or castle logo on them.