Two hurt in Ballymoney railway crossing crash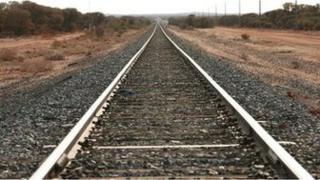 Two people had a lucky escape at a County Antrim railway crossing where warning lights and barriers had been switched off.
A preliminary report by the Rail Accident Investigation Branch said a car had to swerve to avoid a rail truck and trailer at Balnamore, Ballymoney, at 03:00 BST on Friday 31 May.
The car hit metal railings and both people were hurt, but not seriously.
The rail truck and trailer was operated by a contractor for NI Railways.
Investigators said the car driver had no prior warning and the automatic lights system on the crossing had been disabled. The half barriers were raised.
The RAIB report's authors said disabling the automatic operation of the crossing was in accordance with railway rules.
However, the crossing had not been turned on manually before the rail truck passed. It also found that "an informal working arrangement" was being used by the contractor's staff.
This has happened more than once, investigators pointed out. The railway's rules and agreed arrangements are to be examined in more detail.
In a statement, Translink confirmed that an investigation had been launched.
"This incident occurred during a scheduled night time closure period on this section of track for routine maintenance work," the statement said.
"Translink NI Railways will be fully assisting RAIB as part of their investigation."