Woman with severe disabilities 'fears burglar will kill her'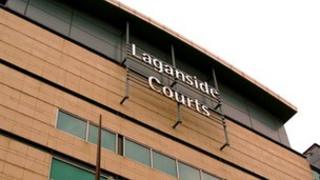 A woman with severe disabilities who was beaten in her north Belfast home fears the intruder will return to kill her, a court has heard.
The 58-year-old was punched about the head and face during an alleged burglary on Sunday.
Edward Stuart Cambridge, 21, of Green End, Newtownabbey, County Antrim, denies charges of burglary, theft, causing grievous bodily harm with intent, and threats to kill.
He was remanded in custody.
Police believe a "more sinister" motive may have been behind the attack in the Shore Road area.
Opposing an application for bail, a police officer told Belfast Magistrates' Court there was a risk of re-offending and interference with the victim.
The woman suffers from arthritis and asthma and has been left feeling vulnerable following her ordeal, according to the officer.
"She believes (the burglar) will return to kill her," she said.
"The lady has sustained severe bruising and a very bloodied face. She has a deep welt to her leg and was attacked with punches to the head and face before being asked for money."
The court heard the intruder had to climb over a high wall to gain entry to the victim's secure flat.
Drinking
District Judge Bernadette Kelly was also told he allegedly removed his belt during the assault.
"Police believe he was there for a more sinister reason," the detective said.
She added that Cambridge was seen leaving the building, but was only arrested after the victim gave a description of her attacker.
A defence solicitor stressed that he denied all the charges and told police he had been in the area drinking with friends.
Questioning the grievous bodily harm charge, the lawyer pointed out that no broken bones were alleged.
Bail was refused due to the risk of further offences and interference with witnesses.
Judge Kelly added: "I have to say I share the constable's concerns about exactly what was going on here."
Cambridge was remanded in custody to appear again by video-link on 26 July.