Poots says police assure 'no untouchables' over drugs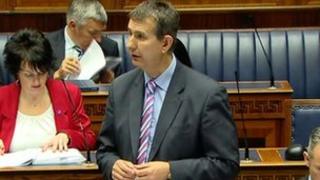 The NI health minister has said he has been assured by the Chief Constable there are "no untouchables" when it comes to drug dealing.
Edwin Poots told Stormont: "I think we have to take his word on that."
Earlier police said they were stunned by Mr Poots' claim he would not be surprised if drug dealers were given immunity in return for information.
He made his comments following the deaths in recent weeks of eight people who may have taken contaminated drugs.
'Complete myth'
Assistant Chief Constable Drew Harris said police did not tolerate criminality of any sort.
ACC Harris said any suggestion that the Police Service of Northern Ireland (PSNI) protected small-time drug dealers was just a "complete myth".
"We work very hard in respect of illegal drugs, we do not protect individuals who are dealing in drugs," he said.
"We recognise, one, the misery they cause in terms of the threat and the risk to people that may use these drugs, and overall then the crime and the harm that they cause to communities and the harm they cause to people and their families, and we work very hard on this."
The senior police officer said the PSNI's "whole emphasis" was not just on the "big dealers".
"Obviously there is a big effort around the movement and trafficking of drugs but also we recognise what a concern it is to our communities and we want to clamp down on it," he said.
Forensic tests
"We can only clamp down on it with the public's assistance."
Over the past number of weeks, seven people died in Belfast and one in the north west of Northern Ireland. They were all aged in their 20s and 30s.
Police are investigating to establish whether those who died took a tablet that they thought was ecstasy.
Forensic tests are expected to reveal whether the deaths of the eight people are linked to a green tablet marked with a crown or castle.