Man jailed for throwing petrol bomb at police in east Belfast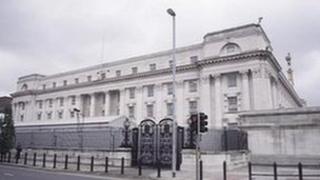 A 21-year-old man who threw a petrol bomb at police in a "moment of madness" has been given a three-year jail sentence.
Kurtis Kenna, from Ardenvohr Street, east Belfast, will spend 18 months in jail and the rest on supervised licence conditions.
The 21-year-old had pleaded guilty to throwing a petrol bomb at police on 5 January.
He also admitted possessing a catapult on the same date.
Belfast Crown Court Judge Gordon Kerr QC said anyone who attacked police with potentially lethal petrol bombs would go to jail.
"In my view such behaviour simply cannot be tolerated and in all circumstances, no matter what the personal circumstances of the defendant, must result in a custodial sentence," he said.
Admitted
He told Kenna: "They're (petrol bombs) well known and you must have known that they can potentially cause horrific injuries."
A prosecution lawyer told the court how riot police had been policing serious disturbances at Castlereagh Street and Beersbridge Road in east Belfast when officers in the police helicopter spotted two men lighting and then throwing a petrol bomb.
In an effort to evade arrest the pair swapped tops but Kenna was arrested shortly afterwards and immediately admitted what he had done.
During police interviews he admitted what he had done was "stupid" and the defence revealed how Kenna was "standing there with a pack of friends acting jack the lad".