Unionist leaders in war of words over Maze conflict centre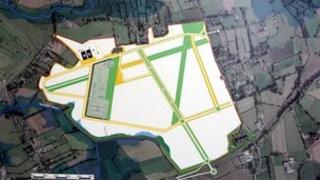 A public war of words between the leaders of NI's main unionist parties over the proposed Maze conflict centre has intensified.
The DUP's Peter Robinson and the UUP's Mike Nesbitt have exchanged open letters making a series of accusations.
In his letter, Mike Nesbitt asked why the Peace Building and Conflict Resolution Centre has to be built on the Maze site.
In reply, Peter Robinson accused Mr Nesbitt of trying to re-write history.
Mr Nesbitt also questioned the DUP's assertion they would not allow the centre to become a shrine to terrorism.
He claimed that, as a result of freedom of information requests, his party has discovered the Sinn Féin education minister, John O'Dowd, intends that his department will have online material linked to the centre.
The UUP leader said he had no confidence this material would be used in a purely educational, non-biased manner.
In his reply, Mr Robinson accused Mr Nesbitt of trying to obscure the Ulster Unionists' past involvement in placing the centre at the Maze when they chaired the Maze Consultation Panel.
And he claimed that, in his previous role as a victims' commissioner, Mr Nesbitt was consulted about the plan and raised no objection.
The DUP leader alleges Mr Nesbitt is now seeking to exploit the fears of victims for party political purposes.
In a separate development, UKIP MLA, David McNarry issued his own open letter to both unionist leaders.
"It is not simply a matter of where such a shrine would be located but, rather, why should we have one at all," he said.
"Quite frankly, the argument between you, Peter and Mike, is about as relevant as debating how many angels can stand on the head of a pin. Your arguments are more about trying to create political difference between you, about 'catching one another out' as it were, than they are about the concerns of ordinary people."
Mr McNarry is a former UUP MLA and was an advisor to David Trimble when he was first minister.