Jim Corr makes debt settlement with ACC Bank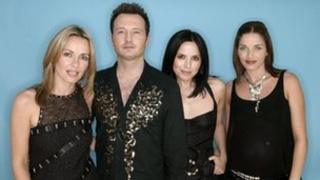 The Irish musician, Jim Corr, has reached a settlement with ACC Bank over a 1.4m euros (£1.2m) debt dispute.
The guitarist, who rose to fame with his family's folk rock band The Corrs, amassed debts following the collapse of an investment business partnership.
ACC secured a judgement against the musician in February 2011.
He was due to face further questioning about the case on Wednesday, but Dublin's Commercial Court was told both parties had reached agreement.
The Corrs are originally from Dundalk, County Louth, but at the time the bank launched its legal bid in September 2010, Mr Corr's home address was given as Old Windmill Road, Crawfordsburn, Bangor, County Down.
During the long-running legal dispute, the guitarist had claimed it was unfair that the bank was pursuing him for all of the debt, when he had been involved in the failed business partnership with two other men.
When lawyers acting for ACC cross-examined Mr Corr in May 2013, they accused him of selling a property in order to put it out of reach of the bank.
The Commercial Court hearing is due to resume in Dublin at 14:00 BST.