Queen's University to offer 10 free scholarships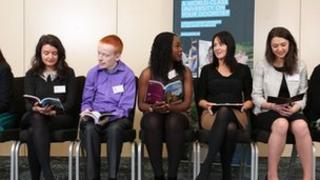 Queen's University Belfast is giving 50 sixth-form students the chance to have their tuition fees paid.
The students will be taking part in a competition on Thursday to win one of ten free scholarships.
They will have to prove they are academically gifted and will be tested on a range of skills including leadership ability and communication.
Schools and colleges across Northern Ireland were each invited to nominate two students.
Nominees were selected on their ability to demonstrate exceptional achievements outside academic life, whether in sport, music and the arts, business and enterprise, or through community work, with a particular focus on leadership, enterprise and social responsibility.
The names of the 10 successful students will be announced in August.
The winners will act as ambassadors for the university.