Armagh murder victim 'was jumped on like a trampoline'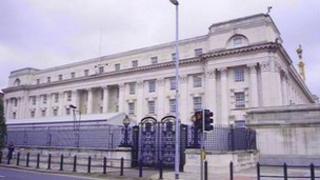 A man who died two years after being attacked allegedly had his head jumped on like a trampoline, the High Court has heard.
Prosecutors said a witness came forward to describe the alleged attack on Lee Smyth in Armagh following the launch of a murder investigation.
The 32-year-old victim was found unconscious beside a river at Ballinahone Avenue in June 2010.
He had suffered serious head injuries and never recovered.
The decision to turn off his life-support machine was taken in June 2012.
Details of the alleged assault were disclosed as one of the two men accused of his killing was granted permission to attend a wedding.
Michael Wilson, 22, of Thornleigh, Armagh, was charged with murder following a statement made to police last October.
Chance encounter
The witness claimed Mr Wilson was involved in what was described as a "vicious" attack.
The prosecution said the account claimed he "kicked and stamped on the victim as he lay motionless on the ground".
The witness further alleged that he was "jumping up and down on the victim's head like a trampoline".
Police believe the attack followed a chance encounter, with no previous history or apparent motive, the court heard.
The prosecution also claimed unidentified people had been subjected to "an orchestrated campaign of intimidation", involving threats and unspecified devices, since the murder investigation began.
Mr Wilson was granted bail earlier this year on conditions including a ban on going within five miles of Armagh.
Intimidation
He wanted clearance to live inside that exclusion zone for a number of weeks, and to stay overnight at a hotel in Enniskillen, County Fermanagh, for a wedding.
Defence counsel stressed there has been no suggestion his client is linked to the alleged intimidation.
The judge refused to allow Mr Wilson back within five miles of the city, pointing out that witnesses in the case needed to feel protected.
But granting permission for the accused to stay at the hotel for one night, the judge banned him from taking any alcohol after midnight.