Three years jail for north Belfast purse-snatcher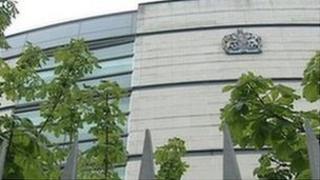 A 33-year-old north Belfast man, who was high on a cocktail of drink and drugs when he snatched a purse, has been jailed for three years.
Belfast Crown Court heard that Gerard McAllister taunted his victim before throwing the purse away.
McAllister of Cranbrook Court, was warned by the judge that it would be up to the Parole Commissioners to decide when and if he should be released.
The judge said that if freed, he was to serve 18 months on licensed parole.
Although McAllister, who admitted robbery and possession of Diazepam, may apply for release once he has served half his sentence, because it is termed a "determinant sentence", it has no automatic right of remission, and it is up to the authorities to fix the appropriate release date.
The judge said that while he accepted McAllister had shown remorse for what was an opportunistic crime, he had 53 previous convictions, including the attempted murder of his former partner, and that following a number of reviews, he was still considered as posing a significant risk of serious harm to the public.
'Clearly intoxicated'
The judge added that although the incident was short-lived, it had been unsavoury and unsettling for his victims.
A prosecution lawyer said that on 11 July last year, McAllister approached a car parked on the Oldpark Road and attempted to engage the two women sitting in the vehicle in conversation.
The women, he added, said that McAllister was clearly intoxicated and they wanted nothing to do with him.
The lawyer said McAllister then reached in through the open car window and grabbed a purse from the dashboard.
McAllister staggered off waving the purse in the air, showing it off to the women.
Police arrested him a short time later in a house he was seen entering.
The lawyer said McAllister told police he had thrown the purse over the garden wall. A neighbour had handed it over to police.
A defence lawyer said the whole incident could be characterised as a childish prank that just went wrong for which McAllister not only wished to apologise to the court, but also to his victims.