Londonderry benefit fraud mother's sentence appeal rejected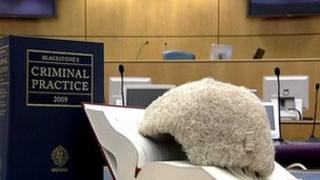 A Londonderry mother jailed for a 20-year benefit fraud of up to £76,000 has failed in a bid to have her five-month sentence reduced.
Two senior judges at the Court of Appeal ruled that the prison term imposed on Donna McCool was justified.
McCool, 46, of Circular Road in the city, was jailed along with her partner Michael Cecil Harkin, 50, last month.
She had admitted false accounting and making false declarations with a view to obtaining benefits.
Northern Ireland's most senior judge, Lord Chief Justice Sir Declan Morgan, said: "There is a requirement for deterrent sentences to ensure others recognise that the system must not be abused for the benefit of the community as a whole."
The charges, which stretched back to September 1990, involved income support and jobseeker's allowance estimated at £76,000.
Her partner's fraud was assessed at being over £67,000.
Sobbing
Both defendants made false declarations about their marital status in order to unlawfully claim the benefits.
McCool's legal team challenged the sentence imposed on her, saying it was excessive.
Her barrister contended that once the fraud started she found herself unable to stop.
"You have to have particular courage to bring it to an end," he said.
"She wishes she had had that courage."
As McCool sat in the dock sobbing, it was contended that, based on true entitlements, her fraud only amounted to just over £5,000.
Sir Declan accepted any benefits obtained were relatively modest, with no evidence of luxuries within the family home.
But he pointed out that McCool had not faced up to her responsibilities even when detected, pleading not guilty until a few days before she was due to go on trial.
Dismissing the appeal, Sir Declan said: "We do not consider that the sentence of five months imprisonment was wrong in principle or manifestly excessive."