Boston College project: PSNI get Dolours Price interview transcripts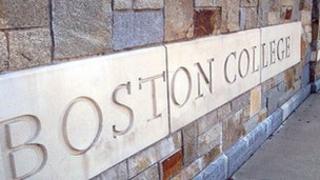 Transcripts of interviews carried out with an IRA woman have been handed over to the police in Northern Ireland.
The PSNI had been attempting to obtain the transcripts of tapes recorded with Dolours Price, who died in January.
They had sought the transcripts due to their investigation into the death and disappearance of the Belfast mother-of-10, Jean McConville.
Ms Price had claimed in the media she drove Mrs McConville to the place where she was murdered by the IRA in 1972.
In April, the US Supreme Court declined to hear an appeal against handing over the transcripts.
They were made as part of Boston College's 'Belfast Project', which was designed to be an oral history of Northern Ireland's Troubles.
The project director, Ed Moloney, and his researcher, Anthony McIntyre, had resisted attempts by the PSNI to obtain the transcripts, and had hoped that the US Supreme Court would overturn a Boston Federal Court decision to hand the tapes over.
Mr Moloney has said that Ms Price, who was part of the cell that bombed the Old Bailey in London in 1973, did not make claims about the Disappeared in the interviews.
The project was supposed to provide a reference for students and academics studying the conflict.
It was done on the proviso that no interview would be released until after the contributor had died.
Mr McIntyre said on Sunday he and Mr Maloney would fight to prevent any more transcripts being handed over.
He said they were disappointed at the move.