Beannchor group to create 42 jobs in Belfast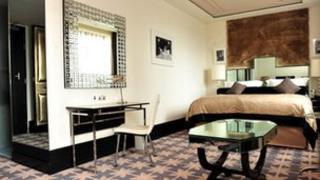 The owners of The Merchant Hotel in Belfast have announced they are to create 42 new jobs.
It follows the Beannchor group's investment in two new ventures in the city's Cathedral Quarter.
The National Grande Café Bar is to open in early September and will be situated in the former National Bank building on High Street.
A new "artisan" bakery and patisserie will open in the adjacent building.
The new jobs will be for full-time and part-time positions.
Bill Wolsey, managing director of the Beannchor Group, said a further announcement of up to 50 additional jobs was expected in the autumn with the opening of a third new business in Cathedral Quarter.
"The hospitality industry is crucial to Northern Ireland's economy and will be one of the key drivers for sustainable economic growth here in the coming years," he added.
"Ongoing investment in the sector is essential, however, if it is to grow and prosper to its full potential amid very challenging economic times.
"Our latest investment of around £700,000 in these two new venues, adding to our major investment of over £16m in the hospitality industry in recent years, will bring an economic boost not only to the Cathedral Quarter, but to the city centre and the wider hospitality industry as a whole."
The Beannchor group owns more than 50 hospitality businesses across Northern Ireland, including Belfast pubs Cuckoo and Tilt.