Northern Ireland property firms report reduced losses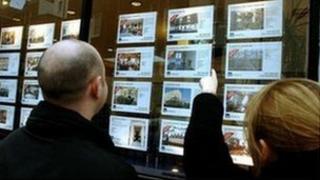 Three of Northern Ireland's largest property firms have reported reduced annual losses suggesting that the crashed market may be stabilising.
Since 2008 most property firms had to continually write down the value of holdings, leading to huge annual losses.
The latest accounts from Killultagh Estates, MAR Properties and Donegall Place Investments show greatly reduced levels of write-downs.
However, the three firms' liabilities outweigh assets by millions of pounds.
Killultagh, which owns the Connswater shopping centre in east Belfast and other shopping centres in the UK and Ireland, had a total recognised loss of £1.8m in 2012.
That compares to total losses of £80m in 2011 and £51m in 2010.
Group turnover fell from £13.8m to £12.9m.
Annual loss
Donegall Place Investments, which owns Bow Street Mall in Lisburn and Bloomfield shopping centre in Bangor, showed a total loss of £12.4m compared to a loss of £89.6m in 2011.
Its turnover was down from £21m to £19.3m.
MAR, which has a diverse range of properties in Northern Ireland, Scotland, England and Canada, showed an annual loss for 2011 of £4.9m compared to a £22m in 2010.
A note in its accounts states that the 'key assumption' regarding the future of the business is that it will have 'the continuing support of Nama to develop and realise the full value of the sites included in stock and work in progress.'
Another major property firm, Belfast Office Properties, reported an increased total recognised loss of £16.9m in 2012 compared to a £10.1m loss in 2011.
The firm is the main Northern Ireland company of Paddy McKillen, the high profile property investor.
It owns the Ards shopping centre and the Waterfront Plaza office block in Belfast.
It also controls the Forge shopping centre in Glasgow, which is probably its most valuable asset.