Ground-breaking Orange march talks end without resolution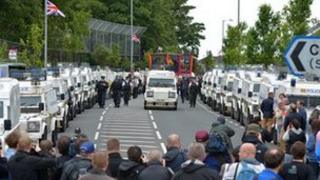 The first talks between the Orange Order and north Belfast nationalists have ended without agreement.
The talks were arranged in a bid to avoid a repetition of disturbances that marked previous 12 July Orange parades in the Ardoyne area.
A residents' spokesman described the talks as significant but added that they had been initiated too close to Friday's Orange march.
The Orange Order said it was willing to continue with the talks in the future.
Rioting
The negotiations were organised after a loyalist residents' association asked three north Belfast lodges to engage directly with the Crumlin and Ardoyne Residents Association (Cara).
The Ardoyne area had been the scene of serious rioting in previous years.
Nationalists had objected to Orange marches in the area while Orangemen continued to use what they termed "traditional routes".
A spokesman for the County Grand Lodge of Belfast said on Monday that the two days of talks had been "comprehensive and frank".
"Those present also articulated the interests of the local unionist community and discussed issues expressed by nationalist residents, as the delegation sought to understand why the parade was opposed."
Mervyn Gibson of the Orange Order said it had engaged in the talks to see if there was anything they could do to show "more respect than what we were already doing" and to try and ensure the 12 July in Ardoyne "would be peaceful".
'Fairly positive'
Cara spokesman Joe Marley said that although he did not believe a solution "was possible" before Friday 12 July this year, the residents felt the discussions had been worthwhile.
"I think the engagement was fairly positive from our perspective," Mr Marley said.
"It was significant because it was the first time local lodges have actually directly engaged with local residents and I think people came with genuine intent," the Cara spokesman added.
Sinn Fein assembly member Gerry Kelly said the talks were an "important beginning to a process of dialogue between the Orange Order and residents".
"This is the first time that the Orange Order have been involved in face to face talks with a nationalist residents association in Belfast," he said.
"While the talks were very close to the 12th of July parades, anytime is the right time to begin a process of genuine dialogue."
Mr Kelly called on all stakeholders to use "their influence to ensure a peaceful 12 July, whatever the outcome of the Parades Commission determination".
Winston Irvine from the loyalist Progressive Unionist Party (PUP) also said the talks were a positive development.
"While I am disappointed that we have been unable to find a resolution to this Twelfth of July parade at this stage, I am very heartened by the decision that the Orange have taken," Mr Irvine said.