Business organisations call for leadership during NI marching season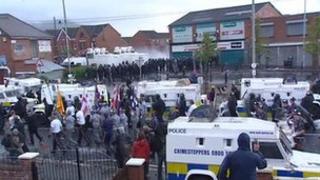 Four business organisations have called for leadership to be shown during the marching season in Northern Ireland.
In a statement, they said Northern Ireland must project an image to the world that encourages investment.
The organisations are the CBI Northern Ireland, the Federation of Small Businesses, the Institute of Directors and the NI Chamber of Commerce.
They say they are mindful that the "major success" of hosting the G8 summit could be undermined by any trouble.
The joint statement said: "As we approach the main parading season we would encourage those involved to provide the necessary leadership on contentious parades and related protests.
"We encourage all involved to go the extra mile in demonstrating a high level of respect to others, ensuring every effort is undertaken to create space for dialogue and endeavour to reduce tensions within our community."
The statement added: "The headwinds facing the economy remain strong and much work is still required to sustain the fragile recovery which is under way.
"We must continue to build a positive image and reputation for the province if we are to retain and attract investment and create more jobs."