Jim Allister's Spad bill gets royal assent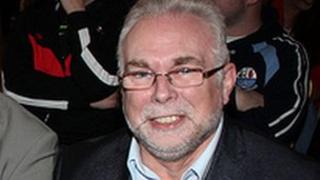 Legislation that would bar anyone with a serious conviction from being a special political adviser at Stormont has received Royal Assent.
The new law means that no-one can be appointed as a special adviser who has a serious criminal conviction.
The bill was put forward by the TUV leader Jim Allister after Sinn Féin appointed Mary McArdle as a special adviser.
She was convicted for her part in the murder of Mary Travers.
Ms Travers sister, Ann, launched a campaign that inspired the bill.
Ms McArdle was later moved from her post as an adviser to Culture Minister Carál Ni Chuilin.
Under the legislation, special advisers who have been sentenced to more than five years in prison are allowed to appeal.
This process gives victims a say and requires the former prisoner to show contrition and assist police in solving their crime.
The new law means Sinn Feín adviser Paul Kavanagh is set to lose his job.
He served 14 years in prison for killing three people in an IRA bombing campaign in England in 1981 and currently advises Deputy First Minister Martin McGuinness.
Paul Kavanagh has three weeks to activate the appeal mechanism to an independent panel on specified grounds. Otherwise he automatically loses his position two months after Royal Assent.
Sinn Féin MLA Daithí McKay said that Jim Allister's Spad bill was an attempt to legitimise discrimination and inequality and the party had always opposed bad law and would continue to do so.
The North Antrim MLA said: "The Spad bill led by rejectionist unionist Jim Allister was, and is, bad law. With the assistance of the SDLP, this law will discriminate. It is sectarian, anti-equality and anti-Good Friday Agreement.
"Sinn Féin has opposed this discriminatory law from the start and will continue to oppose it. We have challenged bad law in the past and this is no different.
"This legislation sets victim against victim in an attempt to reinforce the hierarchy of victims that republicans and nationalists are all too well aware of. It is bad and flawed law and we will continue to challenge it."
TUV leader Jim Allister who brought the bill said: "Getting to this point is most satisfying, not least because of the great sense of justice it has brought to innocent victims, who so often seem forgotten in a system where victim-makers were feted and promoted because they were victim-makers.
"But for the courage and tenacity of Ann Travers this great wrong would never have been righted."