Northern Ireland reservists to play bigger Army role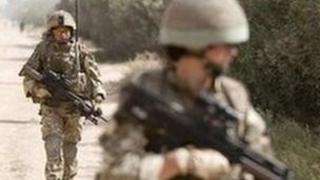 The Army is to integrate NI reservists absorbed into a fully-integrated force by 2020, the government has said.
The number of regular soldiers will be reduced with reservists playing a greater role in operations.
The Territorial Army (TA) will be known as the Army Reserve with the part-timers eligible for paid leave when training as well as when on operations.
NI part-timers represent 4% of UK reserves but more than 20% of reserve personnel when on overseas deployment.
The average reservist in Northern Ireland spends just just under 12 years as a member, compared to a UK average of under four years.
Under the Total Force Concept plan, reservists will be provided with new kit and equipment and will train alongside the units they are deployed with.
Colonel Nick Tougher, the senior Reserves officer in Northern Ireland, said the operational success and high standards in Northern Ireland had been recognised in the review.
"The reservists in Northern Ireland have set high records not only in terms of professionalism and dedication, but also in commitment given that the average reserve soldier serves just under 12 years here compared to a UK average of around four years," he said.