Barry Gilligan cleared of corruption allegations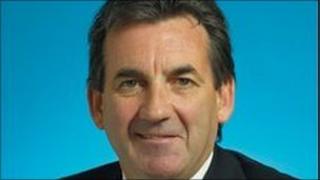 A former chairman of the Northern Ireland Policing Board has been cleared of corruption allegations.
Barry Gilligan, 60, a Belfast property developer, will not face criminal charges after a police investigation.
A Dublin-based business associate and an accountant who worked for his company, Big Picture, have also been cleared.
Police were called in by the Northern Ireland Housing Executive three and a half years ago.
It happened after Mr Gilligan's company applied to build apartments on a site in north Belfast that his company bought in 2006. The land at Nelson Street had initially been designated for social housing.
A senior member of the Housing Executive staff who was suspended as part of the ongoing police inquiry has also been told that he will not face prosecution.
Mr Gilligan stood down as chairman in February 2010 before undergoing major heart surgery. But just a week before he was due to return in August of that year, PSNI officers raided his home and offices, including the one that he used as head of the policing board. Computers, mobile telephones and personal papers were seized.
Mr Gilligan said: "For three and a half years I have had to suffer the ignominy of baseless, malicious rumour and innuendo."
In a statement, the Public Prosecution Service (PPS) confirmed that a decision had been taken not to prosecute any of the individuals in the Nelson Street case.
A file had been submitted to the PPS by the PSNI in July 2011 following a police investigation into alleged criminal conduct in connection with land at Nelson Street, Belfast.
The PPS statement said: "There were two separate aspects to the file submitted by the PSNI. The first related to alleged criminality surrounding the circumstances in which land at Nelson Street was transferred in 2006. Two individuals were reported to the PPS in this regard for various offences including obtaining property by deception.
"The second aspect of the file related to allegations of misconduct in public office and of procuring misconduct in public office in relation to the use of the land. Four individuals were reported in connection with these allegations.
"Following very careful consideration of all the available evidence and circumstances surrounding this case, it has been concluded that the test for prosecution is not met as insufficient evidence exists to provide a reasonable prospect of obtaining a conviction of any individual of any offence."