Why do loyalists burn flags on the Eleventh night?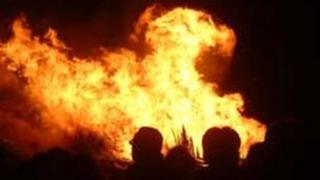 Towering bonfires were lit across Northern Ireland on Thursday evening, the eve of the Twelfth of July, to celebrate the victory of King William of Orange over Catholic King James in the Battle of the Boyne fought in 1690.
A bonfire appeared overnight at the entrance to the small Cluan Place housing estate which interfaces with the mainly nationalist Short Strand area in east Belfast.
It is built each year across a main footpath. Those who build it say it appears at the last minute to minimise disruption to pedestrians, but in a divided society like Northern Ireland, the message it sends out is much less accommodating.
On Thursday morning, it had the flag of the outlawed Ulster Volunteer Force flying from it, but by the afternoon, that had been replaced by a collection of flags which were to be burnt that night. They included the Irish Tricolour, the Papal and the Palestinian flags.
As the bonfire builders were putting the finishing touches to their creation, one man in his twenties, Andrew, explained why the fire building is so important to him.
"It is part of our tradition and our culture. It started off in the days of King William and it has continued on down the centuries since then. It is part of who we are. It is about keeping the tradition alive.
"It brings people together. We collect the material together, build the bonfire together and it keeps the community together. The kids love it."
On the issue of why flags, mostly associated with the nationalist community, are burnt, the bonfire builders said it was their right to burn whatever symbol they wished.
"They are all foreign flags, and burning them is part of our tradition as well," said Andrew.
Asked if he felt that others living in the mainly nationalist area nearby might see this as a provocative act, one of the bonfire builders replied: "They can find it provocative all they want. It is something that has always been done. You are never going to please everybody."
The bonfire is only metres away from the offices of the Ulster Unionist MLA, Michael Copeland. He said he would be powerless to have the flags removed.
"I don't think it's designed to be provocative. I think it's designed to be what it is, representing a particular standpoint in a way that is seen as traditional," he said.
But Sinn Féin councillor Niall Ó Donnghaile, who lives in the nearby Short Strand, said: " I have no objection to people celebrating their culture, but burning national flags and religious icons is not cultural. That's sectarian. This is not the type of imagery we want people in the city exposed to. This is clearly a deliberate and provocative act."