O'Loan: Release Army's Belfast war diaries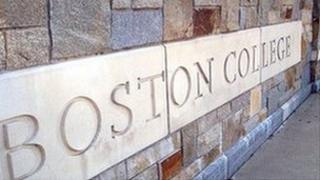 British military war diaries should be released to police investigating Jean McConville's murder, former NI Police Ombudsman Nuala O'Loan has said.
The mother of ten was abducted and killed by the IRA in Belfast in 1972.
Ed Moloney and Anthony McIntyre have revealed they have discovered a number of diaries of Army regiments who were operating in the area at the time.
The two men are behind the Belfast Project archive recordings held at Boston College.
They have invited the McConville family to lodge a joint Freedom of Information request to have the war diaries released.
Under the current embargo, the war diaries will not be released until 2059.
'Jeopardise lives'
However, Dame Nuala O'Loan told RTE there were procedures that police could follow to help secure documents. She said this had been demonstrated by the PSNI in its efforts to obtain interviews from the Boston College archive.
She said any information in the diaries that could put lives in jeopardy should not be released.
The Belfast Project recordings are of former republicans and loyalists talking about their actions in the Troubles.
Interviewees were promised that their accounts would not be published until after they had died.
The project director, Ed Moloney, and his researcher, Anthony McIntyre, had resisted attempts by the PSNI to obtain the transcripts, and had hoped that the US Supreme Court would overturn a Boston Federal Court decision to hand the tapes over.
Earlier this month, however, transcripts of interviews with former IRA member Dolours Price, who died in January, were handed to police in Northern Ireland.