Mervyn Gibson: Parade riots 'train crash waiting to happen'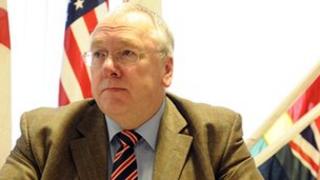 A senior Orangeman has described violence linked to a parade in Belfast "as a train crash waiting to happen".
Orange Order grand chaplain Mervyn Gibson said: "Violence was expected, that's why we were in a crisis."
Rioting in the Woodvale area of north Belfast over the weekend left 44 police officers injured.
The trouble followed a ban on an Orange Order parade along a stretch of road that separates loyalist and nationalist communities.
Speaking on BBC Radio Ulster's Talkback programme Mr Gibson said: "It was clear from the Parades Commission determination that there was going to be violence.
"The anger was out there and people were itching to create violence as a protest against this, which was wrong.
"There was going to be violence no matter what. We wanted to give a peaceful expression to that anger, but unfortunately that didn't happen.
No responsibility
"I think it hasn't been a good weekend for anyone. We have consistently condemned the violence, we were clear we didn't want anyone to come near any of our protests who were intent on violence, and the violence is wrong and must be stopped."
He said the Order bore no responsibility for what had happened and had wanted to hold a peaceful protest at the police line on Woodvale Road.
He was also critical of the speed with which the police used water cannon and fired plastic bullets into the crowd at Woodvale.
"At Woodvale the police were determined right away from the start to show their muscle," he said.
"There was always going to be violence. Why did the police bring extra people in, because they thought there was going to be violence."
He also criticised recent police actions and comments.
'Frenzy'
"The Orange Order wasn't reckless. There's a frenzy about the Orange Order at the moment, particularly being led by the police, and I think that is very dangerous.
"They are more or less putting it up to people which is wrong, we are trying to calm this situation down."
Mr Gibson added: "The bottom line is there are those within republicanism who do not want an Orangeman on an arterial route in Belfast.
"No matter what we play, no matter what we wear, no matter what we say, no matter how much we apologise, it won't make a blind bit of difference, they don't want an Orangeman about the place.
"We're all to blame for where we are because we have allowed the Parades Commission to remain in place.
"The Secretary of State knew this crisis was coming, as did the police, as did everyone else. It was a train crash waiting to happen.
"We tried to make it peaceful, to give vent to people's anger and sadly it didn't work."
Mr Gibson also said that if any Orange Order members were convicted on charges related to the disorder they would be expelled from the organisation.