Hundreds queue for Cliftonville-Celtic tickets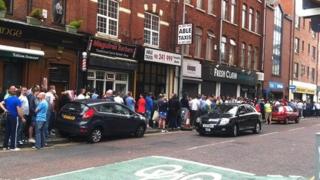 The announcement of extra tickets for the Cliftonville-Celtic Champions League second round qualifier has proved to be a massive draw.
Hundreds of hopeful fans queued for hours on Tuesday, in the hope of getting one of the tickets returned by Celtic for Wednesday's night's match.
One of the first in the queue in Belfast was William Cassidy, a Glaswegian Celtic fan living in Dublin.
"I've been here since one o'clock this morning," he said.
"I left Dublin at nine (on Monday night). It's been great craic all night with the crowds and the Irish people. It's an historic game."
Further down the queue, people were less sure about getting a ticket.
One Cliftonville fan from north Belfast was particularly anxious.
"I'm down here since eight o'clock - I didn't think there would be this many people here. My friends tell me I'm touch and go, this far down," said the young man.
Another fan, even further back, was also concerned.
"We've done a bit of a head count and we're sort of panicking a bit," he said.
But others were more optimistic, in spite of the numbers ahead of them.
"Once this queue starts moving, in about two hours, we'll get those tickets - I'm sure of it," said one.
Stewards from Cliftonville FC marshalled the queue and as the doors opened at 10:00 BST, they began letting 10 fans in at a time.
One by one, they started to emerge clutching their tickets, among them a very happy Mr Cassidy.
"Now I've got to travel all the way back to Dublin and try to get a sleep," he said.
The match kicks off at 19:45 BST on Wednesday at Solitude.