Mark H Durkan new Northern Ireland environment minister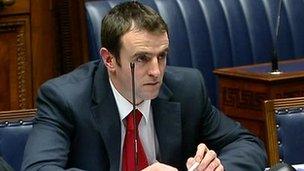 Foyle assembly member Mark H Durkan is to replace his SDLP colleague Alex Attwood as environment minister.
Mr Durkan said the department of environment represented a "diverse portfolio" covering a wide spectrum of environmental and economic issues.
He was elected to the assembly in 2011 and had been the party's social development spokesperson.
Party leader Alasdair McDonnell said Mr Durkan represented "the emerging generation of the SDLP".
"He has done an outstanding job as social development spokesperson, meticulously working through the welfare reform bill," he said.
"The party look forward to seeing Mark follow on the excellent work of Alex Attwood who as environment minister has tackled the bureaucracy in our planning system by pursuing a progressive agenda.
"Alex has also been a watchdog at the executive table, holding the first and deputy first minister to account over their failure to deliver on a shared future."
Mr Durkan said the work done by the department of environment affected every citizen in Northern Ireland.
"Whether that is in the form of local government, planning, natural and built heritage or road safety," he said.
He said he would build on the hard work of his predecessor.
"I will continue where he left off, ensuring planning works for citizens, tourism and the overall economy," he said.
"Local government reform is well under way and I will drive the programme to ensure that we reach the goal of stronger, more efficient and more effective local government - local government which is focused on our citizens and responsive to local needs.
"I will also be robust in my approach to protecting the built and natural environments which make Northern Ireland such a unique place to live.
"This includes reducing the volume of waste going to landfill and also going after those who seek to damage our environment through waste crime."
Mr Attwood had been environment minister since 2011. Mr Durkan is taking over the job on Tuesday.