Claim nationalists threw Catholic statue onto bonfire rejected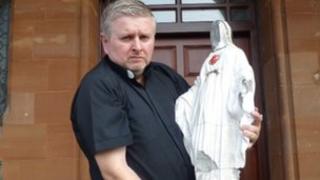 A claim that a Catholic statue was thrown onto a loyalist bonfire by nationalists has been rejected.
William Humphrey made the claim during a Northern Ireland Assembly debate on the Parades Commission decision to restrict a parade in north Belfast.
The DUP MLA said he was given the information by the person who handed the statue over to a priest in Ardoyne.
Mr Humphrey said the statue had actually been thrown onto the bonfire by people from the Falls Road area.
He told MLAs: "I spoke to the gentleman last night who returned the icon to Father Gary Donegan at Holy Cross chapel.
"The icon was thrown into the bonfire at Lanark Way by people from Divis in the lower Falls."
It prompted the SDLP's Conall McDevitt to interrupt Mr Humphrey and raise a point of order.
But the claim was angrily rejected by Sinn Fein and the SDLP.
The parish priest in Ardoyne, Fr Gary Donegan also disputed Mr Humprey's version of events
Fr Donegan said the information he had was that the statue came from a stolen vehicle.
He said "hoods" from both sides of the divide had swapped stolen cars and the statue, was left in the car afterwards.
"The important issue I have to emphasise is that it was a very generous decision to return it and a very brave decision to return it," said Fr Donegan.
He said he does not know where the concrete statue came from.
Its face was missing and there were two major cracks in it with scorch marks on the back.
"I used it as a symbol to preach about peace on Sunday and then some volunteers took it away to get it repaired," he said.
A statue of the Virgin Mary that was placed on a bonfire has been handed in to a north Belfast church.
Fr Gary Donegan, rector of Holy Cross Church in the Ardoyne area, welcomed the return of the statue.
It had been placed on a bonfire in the neighbouring loyalist Shankill district.
He said the statue had been removed from the bonfire by community leaders "who did not want to cause offence to ordinary Catholics".
Bonfires are traditionally lit by loyalists across Northern Ireland on the eve of the 12 July Orange Order parades celebrating the Battle of the Boyne in 1690.
Fr Donegan said it appeared that the statue had only been on the bonfire in Lanark Way for 10 minutes before it was removed.
"This incredibly responsible act proves that there are leaders within our communities who remain committed to taking positive steps for peace," he said.