Ireland's Homebase DIY chain in examinership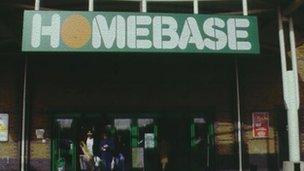 The Irish arm of the Homebase DIY chain has been placed into the equivalent of administration, known as examinership.
Homebase has 15 stores in the Republic of Ireland employing 558 people. It said it is considering closing three stores.
Homebase Ireland has seen its sales fall by 31% since 2009 and has not made a profit in the last five years.
The company said it is now seeking to restructure the business to put it back on a "sustainable footing".
It added that it would try to protect as many jobs as possible.
It is the latest in a series of UK-based multiples which have used insolvency procedures to restructure their Irish businesses and get out of onerous 'upward only' leases.
Earlier this year Kingfisher, the retail giant that owns B&Q, puts its nine large stores in the Republic of Ireland into examinership.