Twelfth parade rioter 'attacked police with own baton'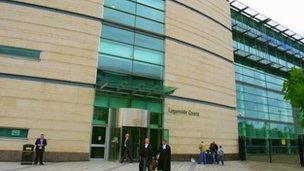 An alleged rioter attacked police with one of their own batons during Twelfth of July violence, a court has heard.
William Rodgers, 36, of Glencairn Way, Belfast, is accused of stealing the weapon from officers enforcing a restriction on an Orange Order parade in north Belfast.
He was among three people brought before the city's magistrates' court in connection with the ongoing trouble.
A police officer said CCTV footage showed Mr Rodgers attacking police.
He faces charges of riotous assembly, theft of a police baton, possession of an offensive weapon with intent to commit grievous bodily harm, and attempted criminal damage to a police Land Rover.
It was claimed that he was among the "most prolific" offenders at a violent stand-off on the Woodvale Road.
Dressed in a Glasgow Rangers football shirt, Mr Rodgers nodded when the alleged offences were put to him.
Following his arrest, Mr Rodgers admitted being the person in the footage but claimed to have no recollection of the incident.
The police officer told the court: "The defendant is also seen striking police with a baton taken from riot police, standing on a police Land Rover and attempting to break the wing mirrors."
A defence lawyer said his client was not an organiser of the riots and had no previous history of similar offending.
But District Judge Alan White refused bail due to the risk of further offences.
Remanding the accused in custody until next month, he said: "There's clearly strong evidence against you which is likely to lead in due course to a lengthy custodial sentence."
Meanwhile, the court heard how another man was spotted tying a mask to a troublemaker after going to see what was happening.
Andrew McVeigh, 22, of Woodvale Avenue, Belfast, is charged with encouraging or assisting a riot on 13 July.
The court heard he was allegedly in breach of previous bail by being at the scene of a protest.
His lawyer said that the new charge was limited to a 30-minute period.
"He is not seen throwing anything at police and after he tied the mask to an unknown person he returned home," she said.
"He made a foolish decision to do this and when police contacted him on the telephone he handed himself in."
Mr McVeigh could lose his job with Parcel Force if refused fresh bail, she added.
Judge White ordered him to be remanded in custody until 13 August.
A third accused, Andrew Mercer, 29, with an address at Victoria Street, Belfast, faces charges of riotous assembly and criminal damage to a police Land Rover wing mirror.
No bail application was made and Mr Mercer was remanded in custody for four weeks.