Belfast's Sunflower bar wants to keep cage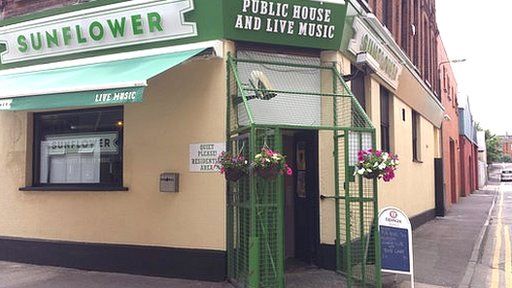 It is a relic of the Troubles that has been turned into a quirky photo opportunity for visitors and locals alike.
The security 'cage' at the door of Belfast's Sunflower bar is the last one of its kind on a Belfast city centre pub.
Erected 25 years ago, it was originally an additional security measure that enabled staff to identify people before they entered the bar.
Now the Department of Regional Development (DRD) wants it removed.
The current landlord of the Sunflower, Pedro Donald, has been told that he has erected a structure that is on the public road.
He was bemused by their demand.
"It's just come to their attention now after 25 years," he said. "It implies that I erected it, which I didn't.
"We are disappointed. In the six months we've been here, we've grown very fond of it - our customers and our staff and myself."
The Sunflower, on Union Street close to Smithfield, is a well-known bar that hosts a number of music events, including the Sunflower folk club, originally established in the 1970s.
A number of scenes from the recent hit movie Good Vibrations were also filmed there.
The security cage was erected in the aftermath of a shooting in the bar in the late 1980s.
"The bartender could see who was coming in or out, and could decide whether to let them in or out," Mr Donald said.
When he took over the bar in 2012, he made the cage purely ornamental, painting it green and hanging flower-baskets on it.
In a statement, the DRD said that they had asked for the removal of the security cage as it "restricts pedestrian access in Union Street and in Kent Street and presents a public liability issue".
The Sunflower's patrons haven't taken the DRD's demand lying down. A Facebook campaign has been launched to campaign for the decision to be reversed.
Pedro Donald said they have not given up hope of keeping the cage yet.