Gareth O'Connor murder: Names redacted in police documents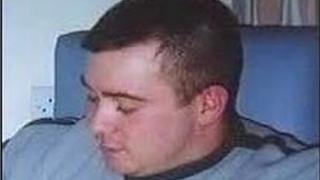 A pre-inquest hearing has heard that 10 people named in police documents relating to the murder of Armagh man Gareth O'Connor have had their identities protected.
Chief coroner John Leckey asked the Police Service of Northern Ireland's solicitor to find out why the names had been redacted,
The body of the father-of-two was found in Newry canal in 2005.
Mr O'Connor disappeared on his way to Dundalk Garda station in May 2003.
He was due to attend as part of bail conditions.
These were set after he was charged with Real IRA membership.
His family believe he was abducted and killed by the Provisional IRA.
Mr Leckey said he had asked Justice Minister David Ford for more funding for the coroners' office in case potential suspects in Mr O'Connor's death need to be contacted.
Their names had been blanked out of police documents given to the family of Mr O'Connor.
Some of them are witnesses and some of them may have been suspects in Mr O'Connor's death.
Contact details
Mr Leckey asked the PSNI's legal team to find out if the names had been redacted because of parts of the Human Rights Act that protect a person's right to life and their right to privacy.
He also requested that police provide contact details for these individuals.
The coroner said if they were to be named as part of the inquest, the coroners service would have to contact these people and then it would be up them to decide if they should get legal advice about protecting their identity.
A solicitor acting for Mr O'Connor's family said they just wanted information about his death and it did not matter where that information came from.
He added they did not want a lengthy and expensive drawn out legal process.
It was also claimed in the coroners court on Thursday that Mr O'Connor may have been an informer.
The inquest into Mr O'Connor's death is listed for November but the court heard it might be pushed back because it will take time for legal issues to be addressed.