'Stoned' Newtownabbey man exposed himself to police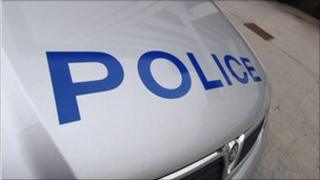 A man who exposed himself to police during an outdoor drinking incident was "stoned out of his head", a Belfast court heard.
Robert John Stewart of Glencoole House, Newtownabbey, County Antrim, admitted indecent behaviour and assault on police.
The 31-year-old twice pulled down his shorts in front of officers during the incident at Hazelbank Park, near Belfast Lough on 7 June.
He was fined £600.
A prosecution lawyer said Stewart had intervened as police were dealing with a group of youths who had been drinking in the park.
He struck a police officer in the chest and left him winded.
"He then ran in the direction of the beach area, turned round to police, pulled down his shorts and exposed his genitals," the prosecutor said.
Following his detention, Stewart said: "I was stoned out of my head."
His lawyer said Stewart apologised unreservedly for his behaviour.
"It was a drunken episode. He ended up stripped in Belfast Lough and you heard how he misbehaved himself," the lawyer said.
He was fined £300 for each offence.
He warned Stewart that "there will be 28 days in prison if you don't pay that."