Water experts urge caution after spate of drownings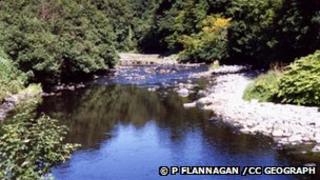 Safety experts have urged the public to be extremely vigilant around open water.
It follows a spate of deaths in rivers, lakes and the open sea across the island of Ireland.
On Thursday, a 15-year-old boy died after falling into the River Roe near Limavady.
In early June, Kevin O'Hare, 15, and 39-year-old Colin Polland were killed at a disused quarry in Annalong, County Down.
Kevin got into difficulty and Mr Polland jumped into the water to try to rescue him.
Across Ireland, seven people died in the water in just one week in July.
On 7 July, the body of an elderly man, John Looby, was found on the beach at Kilkee, County Clare.
On 10 July, Abayomi Adefabi, 16, from Celbridge, County Kildare, drowned in the River Liffey.
On the same day, Daniel Harding, 19, died while swimming in a lake near Strokestown, County Roscommon.
And 11-year-old Kyle Roche drowned at a beach in Youghal, County Cork. It is thought he may have slipped and hit his head while swimming.
Lisa Knight who was 21 and from Limerick drowned in the River Feale after she became separated from her friends.
Joe Killeen, 16, from Limerick died in the water at Ardnacrusha bridge in County Clare.
An unnamed man in his sixties was found dead in Kilkee on Monday 16 July - it is thought he was there from the previous evening.
John Leech from Irish Water Safety - a statutory body based in the Republic of Ireland charged with promoting safe behaviour on the water - said two generations of Irish people did not know how to swim in open water.
"In the 1980s and 1990s, the media put out the message that the water quality was bad but in the last 20 years with sewage treatment plants, we now have wonderful water quality," he said.
"People did not swim because we have not had the weather. So now there are two generations of Irish children with no knowledge of the open water."
The advice is to swim only at lifeguarded waterways or, if this is not possible, to use a traditional bathing area.
Mr Leech said that if you see someone in difficulty you should:
Shout to encourage them to shore;
Reach out with a long branch or clothing, but do not enter the water;
Throw a ring buoy or floating object;
Call the coastguard.
In Ireland, the majority of drownings - 62% - occur inland where river and lake beds can be difficult to see.
"This makes it extremely difficult to determine if you are swimming within your depth," Mr Leech said.
"The onset of cramp, combined with the panicked realisation that you are out of your depth can have tragic consequences and be compounded further by the muscle cooling effect of longer periods in open water."
The latest statistics from Irish Water Safety show that in 2012, 147 people drowned in Irish waters - 19 more than the previous year.
Mr Leech reminded anyone engaged in aquatic activity to wear lifejackets and asked swimmers to go to beaches where lifeguards are employed.
Those walking along the coastline have also been warned about the dangers of high tides.