Orange Order repeats Ardoyne parade application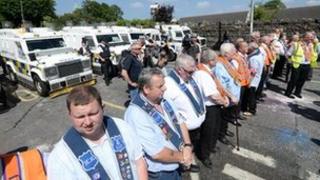 The Orange Order has submitted a fresh application to march past a sectarian flashpoint at Ardoyne, north Belfast.
It has applied to the Parades Commission to pass Ardoyne shops on the Crumlin Road, an interface separating unionist and nationalist communities.
It is the Order's third attempt this month to march along the same route.
When marchers were stopped from taking the route on 12 July, there were five nights of riots. However, last Saturday a protest passed without violence.
Thousands of people accompanied Orange lodges along the route of the latest march, but the parade was halted by police on the Woodvale Road.
The crowd began to disperse just before 16:00 BST.
On Monday, the Orange Order submitted a new application to march past Ardoyne shops on the afternoon of Saturday, 27 July.
The proposed march would leave from the loyalist Shankill area, passing along the Woodvale and Crumlin Roads, to Ligoniel Orange Hall.
The order said it expected 500 people to take part in the parade with an "unknown" number of supporters.
The Parades Commission is due to consider the latest application on Tuesday.