Royal Dental Hospital: Report points to 'deficiencies' in care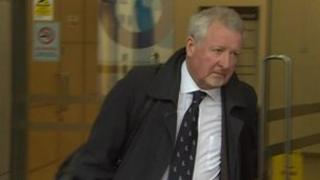 "Serious deficiencies" have been identified in the quality of care at the Royal Dental Hospital in Belfast.
A full report into the oral medicine service at the hospital has been published by the Department of Health.
It follows an inquiry set up in 2011 after the recall of 117 patients.
A consultant in the department, Prof Philip Lamey, is accused of 46 counts of malpractice by the General Dental Council. He denies the allegations.
A summary of the report was published in June 2011, but publication of the full report was delayed because some regulatory processes were not complete.
The Department of Health has said most of the 42 action points which were set to address the report's recommendations have now been implemented.
They are all expected to be dealt with by September 2014.
The Health Minister, Edwin Poots, said: "I hope that implementation of the action plan will help address the concerns this incident has raised.
"I also hope it improves public confidence in the Belfast Trust, that lessons have been learned and services are now managed in such a way to ensure patient safety and the best possible quality of services."
Prof Lamey is alleged to have failed to carry out biopsies that resulted in 15 patients being diagnosed late with cancer, four of whom died.
Among the allegations are that he prescribed mouthwash, iron tablets or sugar-free chewing gum to cancer sufferers after failing to spot they had the disease.
All the charges relate to when he was working at the Royal Victoria Hospital in Belfast between 2006 and 2010.
A misconduct panel dealing with his case has been adjourned until October.