Police criticised for Jamie Bryson trial delay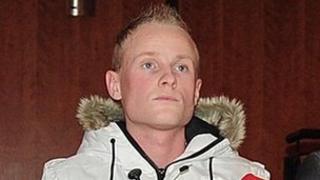 A lawyer for loyalist flags protest leader Jamie Bryson has criticised police delays in completing their files on his case.
Mr Bryson, 23, is on bail awaiting trial on charges of taking part in an un-notified procession and encouraging or assisting offences in March.
Belfast Magistrates' Court heard police could not give an update on progress.
This was because they were awaiting examination results of a computer seized from Mr Bryson.
A defence lawyer said Monday was the first time he had heard about the computer.
'Fishing exercise'
He said he had believed the alleged evidence related to speeches that Mr Bryson had made and to his client's presence in certain locations.
The lawyer said there were concerns that "matters were dragging on" and that the examination of the computer was a fishing exercise.
Police were given two weeks to report back to the court about what was happening in relation to the case.
Meanwhile, one of the bail conditions imposed on Mr Bryson was changed so that he can leave his home to go on a family holiday.