Should rules be introduced over flags on lamp-posts?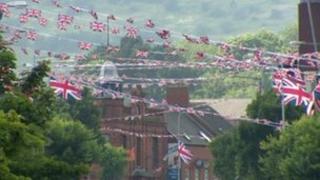 On the Shankill Road, it's a festival of flags. In windowsills, on trees, and of course, the traditional lamp-post.
And it is not just loyalist west Belfast. The flags protest seemed to have spawned more Union flags than ever.
And the Alliance party has called for the flags on lamp-posts to be regulated so they do not end up tattered.
East Antrim MLA Stewart Dickson said it was disrespectful to the Queen and the flag.
He also said flags should not be used to provoke or to mark territory in a shared society.
"The reality is that those people who wish to fly flags should do so on their own property rather than on the shared space of public property and lamp-posts and street furniture are public property," Mr Dickson said.
There are already special arrangements for Orange arches in areas such as Dromore which Mr Dickson said might be extended to flags, provided the Department of Environment had no objection on health and safety grounds.
He said community consent is required for such flags to fly and that people should have the right to object to flags on lamp-posts.
But the local DUP MP Jeffrey Donaldson says he sees no reason to regulate flags on lamp-posts.
"That will only result in more flags going up.
"Have people learned nothing about the way these things operate in Northern Ireland? If you deny someone the right to do something - very often the reaction is precisely the opposite of what you desired."
There is a flags' protocol which has been under review for some time.
Mr Donaldson said it is working and is "sensible."
It involves various agencies including the police and government departments such as Social Development, and Regional Development working together.
Under the protocol, the Road Service will take down an unwanted flag - if the community agrees.
This community agreement is a matter for the police, as well as community and local representatives.
Sinn Féin MLA for South Belfast Alex Maskey said his constituency is diverse and he is hearing growing complaints about the issue.
He said he was speaking to the Department of Regional Development about the issue as it includes the Roads Service.
"They're telling me their workers are under threat. Well, we need to identify it - if that's the problem then the unions need to stand by the workforce.
"The workforce needs to ensure these areas are kept neutral or flag free."
He said everyone's national flag should be respected and that if flags are to be flown they should be taken down after a period.
Mr Maskey suggested flags could be required by law to be removed after a limited period, in the same way election posters were regulated.
He said Sinn Féin would not be found wanting if legislation was required. He said the key would be consensus from talks due to be held in the Autumn.
The talks will be chaired by American diplomat Dr Richard Haass and will involve the five main parties.