Challenges await new Stormont ministers Durkan and Hamilton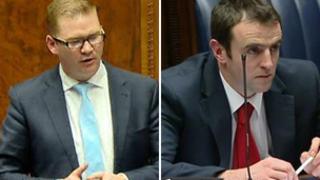 Buckingham Palace isn't the only place where they are changing the guard.
The fresh faces at Stormont may not be quite as wrinkle-free as the baby prince, but how they cope with the challenges ahead should liven up the autumn when MLAs return to the blue benches.
Mark H Durkan has already stepped into Alex Atwood's shoes at the environment department.
Next week the DUP is expected to confirm Simon Hamilton's appointment at finance.
The current incumbent Sammy Wilson has already acknowledged that this week's proposal to scrap relief payments to thousands of low income ratepayers will probably be his final act as Finance Minister.
Sammy Wilson joked that, unlike Labour's Liam Byrne, he isn't going to leave a note for Simon Hamilton telling him there's no money left.
After an eventful period as the environment minister who didn't believe in man-made climate change, the East Antrim MP is proud of his period in charge of Stormont's finances and insists his successor will inherit a healthy position from which to negotiate the 2015/16 budget.
The looming ban on double jobbing at Westminster and Stormont made Sammy Wilson's replacement inevitable.
It will be interesting to see whether he opts in the future to hold on to his Westminster seat or to concentrate on Stormont.
Knockabout humour
Being an MP may be officially a rung up the political ladder from being an MLA. But for someone - like Mr Wilson - who wants to keep busy, Stormont increasingly appears to look like the place to be.
Simon Hamilton won't match Mr Wilson for knockabout humour.
However, anyone who has watched him in the assembly chamber will appreciate his cool competence.
The SDLP's Mark H Durkan is also well liked at Stormont.
Whether he can match Alex Attwood's eye for detail is more open to doubt.
Sometimes under attack from his colleagues, Mr Atwood could always hold his own.
Mark H Durkan has proved himself as a pugilist in a charity boxing ring, but will the Foyle MLA be as quick on his feet when the verbal fisticuffs are flying around the executive table?
Decisions to watch include whether the new environment minister decides not to pull the Planning Bill after the DUP and Sinn Fein ambushed Alex Attwood with their proposal to take control of new special economic zones.
Mark Durkan also has to handle the local government reorganisation bill with the clock ticking down to the elections for new "super councils" pencilled in for next year.
Besides his budget negotiations and handling of public sector pension changes, there are fewer specific items which jump out of Simon Hamilton's in-tray, in part because any new phase in the debate over corporation tax will have to await the outcome of the Scottish independence referendum.
But at finance, you are the minister with a finger in everyone else's pie.
So it's certain the Strangford MLA will be kept busy - particularly if the assembly parties fail to resolve their differences over welfare reform and the Treasury starts to levy multi-million pound fines on Stormont from the turn of the year.