Northern Ireland hit by flooding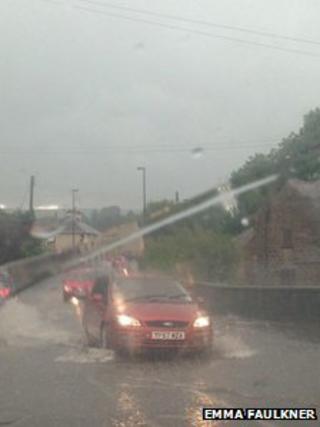 Parts of Northern Ireland are experiencing heavy rain and flooding.
Police have warned motorists of localised flooding on roads in and around Antrim.
Health trusts across Northern Ireland were affected after a lightning strike on Wednesday knocked out some computer systems.
The Business Services Organisation, which runs the systems said there had been no risk to patients and the services have now been fully restored.
The Northern Ireland Fire and Rescue Service has dealt with flooding incidents in the Dungiven area.
With more heavy rain forecast, the Consumer Council is advising anyone who feels their property is at risk to take simple steps to protect it from flooding.
These include getting sandbags, preparing a kit; finding out where electricity and gas can be turned off and moving documents to a high place.
They are also advising everyone to be aware of rain or flood warnings from the Met Office.
The council's Aodhan O'Donnell said: "During past summers, adverse weather has caused flooding issues for consumers across Northern Ireland.
"It is therefore important consumers consider protecting their homes now against the risk of any flooding that may occur."