World Police and Fire Games: Ice hockey matches to begin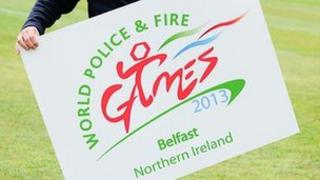 The first event in the World Police and Fire Games takes place in Belfast on Thursday with the start of the ice hockey tournament.
The opening ceremony of the games is on Thursday of next week, but the 26-team international ice hockey competition is starting early.
Competitors from 67 different countries have begun arriving in Belfast.
The first are the ice hockey players, including a team of US fire-fighters called the Las Vegas Guns and Hoses.
Among the sides in action on Thursday are a local team, the Northern Ireland Tridents.
Thursday's matches are being played at the Odyssey Arena in Belfast.
They are open to the public and admission is free.
The only events during the games which are not open to the public are archery and shooting.