Northern Ireland's A&E 12-hour waits drop dramatically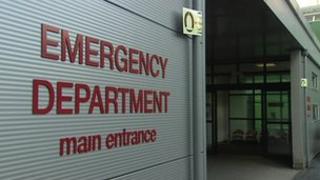 The number of patients forced to wait 12 hours or more in A&E departments in Northern Ireland has fallen dramatically, according to the latest statistics.
Department of Health figures for April to June 2013, show a marked drop from 1,008 to 249 patients - a 75% drop.
The department noted that at Antrim Area Hospital, the figure fell from 335 patients to zero.
In April, senior doctors called Antrim A&E "ineffective and unsafe".
In February, the BBC reported that Antrim was not meeting waiting targets. In just one week that month, 100 patients waited 12 hours or more before being admitted.
The latest Department of Health figures show a slight increase in the percentage of patients at 24-hour A&E departments who were dealt with within a four-hour period.
That figure was up by 0.7% on the month of June last year.